ESG… a shared vision for sustainable performance
ESG represents to Port of Portland (POPL) a mindset within the organisation that the business, its Directors, Management and staff will all work in an ethical and sustainable manner. 
In adopting these principles, POPL recognises that it has a responsibility to do the right thing in respect to caring for its staff, customers, the broader community and the environment it operates in.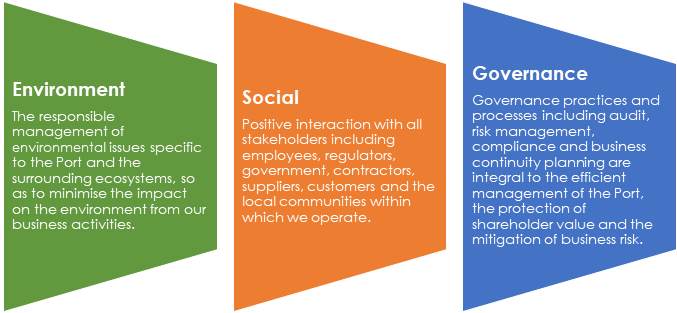 Key elements: pollution, biodiversity, contamination, reduction in the use of energy and water, emissions of noise, light and  greenhouse gas, and resilience to disaster.  In practical terms, for POPL this includes actions such as:
Respecting the environment and the habitat we work in, and considering the potential impact on the environment prior to any actions,
Minimising our use of energy and water and our production of waste by adopting and use of efficient practices and equipment,
Ensuring compliance with our EPA licenses and statutory obligations,
Correctly storing, use and disposal of any hazardous substances,
Committing to the recycling of waste products,
Minimising light, noise, dust and greenhouse gas emissions,
Becoming a community leader by maintaining high environmental standards across all elements of Port operations.
Key elements: health and safety, community development, staff and customer satisfaction, freedom of association, gender and diversity and stakeholder relations.  In practical terms, for POPL this includes actions such as:
Providing a flexible, inclusive, supportive, healthy and safe work environment,
Encouraging the education, training and development of our people,
Being respectful and encouraging diversity amongst our staff, clients and suppliers,
Supporting community events and staff who perform charity work,
Supporting grass roots community organisations through a fair, equitable and broad-based donations program,
Working cooperatively with other local businesses, councils and community groups,
Providing leadership and resources in respect to social aspects within the community.
Key elements: audit and Board processes, bribery and corruption, data privacy, protection and security, fraud prevention, fiduciary duties, executive compensation and whistle-blower protection.  In practical terms, for POPL this includes actions such as:
Applying best practice business risk management processes and reviewing them regularly,
Regularly auditing our businesses for compliance with standards and community expectations,
Working with our service providers to ensure POPL's ESG principles are implemented,
Ensuring that there are fair and robust complaints and whistle-blower processes,
Compliance with all relevant laws and regulations at all levels of the organisation.
"ESG is no different to safety. It makes good business sense and must become an integral part of the way in which we work at all our assets"