Recreational Boating / Diving
The Local Port is operated by Glenelg Shire Council as Local Port Manager and Waterway Manager on behalf of the State Government. All facilities, navigation and waters inside the boundary (see map below) are managed by Local Port Officers.
Local Port Officers operate an on-call roster for duty outside of business hours and also are on-call weekends and all public holidays. Initial contact should be with the Local Port Manager or as directed by phone message. Alternatively, contact any Port Officer in an emergency.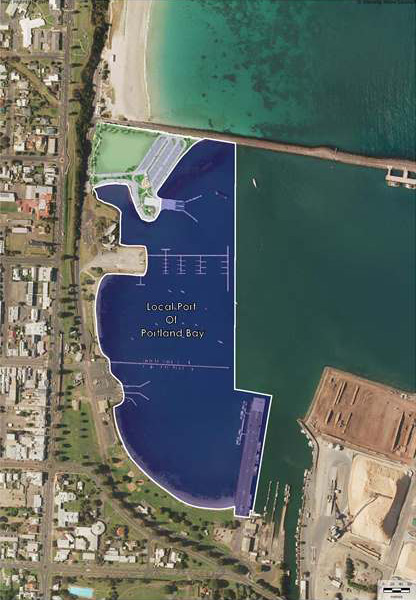 Recreational Boating
New recreational boat arrivals should be directed to the Portland Bay Marina (Berths A7 or J1) and advised to contact the Local Port ASAP. Berth fees apply. For plans of the Portland Bay Marina with depths, please click on the following link: Portland Bay Marina Map
New commercial fishing boats or commercial workboats (tugs, tenders, survey boats etc.) arriving should be directed to the Trawler Wharf and advised to contact the Local Port ASAP. Berth fees apply.
Unauthorised anchoring in the Local Port waters is prohibited.
Facilities:
Trawler Wharf
Old Boat Ramp
Swing Moorings
Portland Bay Marina
New Boat Ramp
Contact Details:
For fee information or booking enquiries, please telephone (03) 5522 2140. Further information is available from the council website at:
Recreational boats must obey speed restrictions and give way to commercial vessels. Mooring alongside commercial berths and anchoring at the entrance or approaches to the harbour without authorisation is an offence.
The boat ramp's notice board has a detailed diagram about speed restrictions and safety information for small boat owners.
Diving
Recreational diving within the port or from breakwaters is prohibited without a prior permit from Port of Portland.